Violin & Viola Teachers
Natasha Danchenko, Violin Teacher

Daughter of Victor Danchenko, Natasha studied at the 'Murzlikovka' Music Conservatory of Moscow. Under the substantial guidance of her father, she studied in Toronto at the RCM under Yasha Milkis (former concertmaster of TSO).
With 17 years of teaching experience, Natasha offers students a solid foundation emphasizing postural (hand) positioning, high technical proficiency and rich tone. Her Suzuki certification, combined with a traditional approach enables her to teach young children (3+). She has performed in the Phantom of the Opera, at the Nobel Peace Prize Conference and with Cirque du Soleil.
David (I-Chen) Lin, Violin & Piano Teacher, MM University of Toronto, BM University of Western, Violin Performance, Piano Minor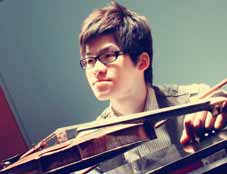 A recent M.M. Performance graduate, David studied violin at the University of Toronto with Professor Yehonatan Berick. At the University of Western for his undergraduate B.M., he studied violin with Professor Mel Martin and piano with Professor Carolyn Herrington and Stephan Sylvestre, graduating in 2011. From Taiwan, David began piano studies at age 4 and violin at 7. David has been teaching violin and piano privately since 2009. A soloist in the summer of 2013 with the Canadian Sinfonietta Youth Orchestra, he performed a 5-concert tour in Europe. David attended high school at Don Mills Collegiate Institute in Toronto, studying piano and violin with Aster Lai and Maestro Tak-Ng Lai, earning his ARCT from the Royal Conservatory of Music in 2005. David is a sensitive teacher eager to help young students develop and mature students to express their full expressive capabilities. Mandarin & English
Justina is are recent undergraduate of music and music education major at the University of Toronto, Justina studied with Marie Bérard. A graduate of Univonville High School's Arts York music program, she performed with orchestras including the PJ Youth Symphony Orchestra (Malaysia), Toronto Cultural Youth Orchestra, Arts York Symphony Orchestra and York Symphony Orchestra. She has participated in Kiwanis and Music Alive festivals. Mandarin, Cantonese & English.
Jason Shiu, Violin Teacher BM University of Toronto Violin.
Jason is a warm, outgoing teacher very much connected with young people through his community service work. Currently in the Toronto Symphony Youth Orchestra, he is passionate about teaching and sharing his love of music.
Christopher Wong, Viola Teacher. BM University of Toronto Viola. ARCT Viola Performance
He has also studied privately with Alexander Matus and has graduated from the acclaimed Arts York music program. He has performed in masterclasses for artists such as Jacques Israelievitch, Christine Vlajk, Heidi Castleman and Eric Nowlin. Christopher has performed with the University of Toronto Symphony Orchestra, York Symphony Orchestra, Toronto Cultural Youth Orchestra, Petaling Jaya Youth Chamber Orchestra, Scarborough Choral Society and is currently a member of the Kindred Spirits Orchestra. He has received the Mamie May Scholarship, the Kiwanis Foundation Award for Strings, and has toured with various orchestras in mainland China. Mandarin, Cantonese & English.

To book an assessment or a trial lesson call
:
905-479-0591