Clarinet Teachers
Michael Westwood, Clarinet
University of Toronto B. Mus & M. Mus, in Clarinet
Ontario Institute of Studies in Education U of T B. Ed.
Ontario College of Teachers Certified in Intermediate/Senior Instrumental Music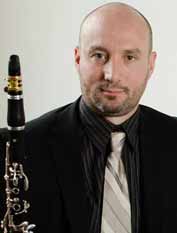 As a teacher, Michael Westwood's lineage of education can be traced back to some of the greatest names in classical clarinet. His eight years in the studio of Avrahm Galper instilled in him a sound and style which can be traced from Galper to its origins with Simeon Bellison of the New York Philharmonic and Frederic Thurston of the London Philharmonic. Michael instills in his students an ear for and ability to produce a rich, full, and beautifully supported clarinet sound at first in the chalumeau register and then throughout the entire range of the instrument. Through attention to detail and demonstration, Michael engages and inspires his students to achieve a higher level of ability than they previously thought they could.
Michael has, throughout his career, commissioned and performed many new works. Most recently, he commissioned two new pieces from Canadian composer Frank Horvat. If Not Us, Then Who, for clarinet, cello and piano, was written and premiered in 2014 and has since been performed a second time. In 2015, Michael premiered Frank Horvat's brilliant new Clarinet Concerto, Couple Dies Holding Hands, in Toronto with the Greater Toronto Philharmonic Orchestra. Horvat wrote a new work for clarinet and piano entitled 30 Minutes of a 3 million minute Journey which Michael premiered in Toronto in May 2016 then debuted in Europe in Estonia in August. During the 2014-2015 season, Michael also performed Canadian composer Ian McDougal's great clarinet concerto in Toronto for a very fortunate audience.
With a forthcoming second performance tour in Europe, a third commission and premiere in two years, an ambitious new project to perform the five "Benny Goodman" concertos over the next three years, and two upcoming recording projects, and a busy and growing teaching studio, Michael Westwood is much more than a clarinetist, he is a highly sought after soloist, chamber musician, and teacher who has collaborated with a great number of leading Canadian musicians over the past two decades. He frequently appears in solo recitals, chamber music concerts and as soloist with orchestra. His programming ideas combine a passion for the monumental standard repertoire, rarely heard music spanning the past two centuries and new music of the past few years.
As well as being a highly sought-after clarinetist, Michael founded his own concert series, Westwood Concerts, in 2013. Westwood Concerts brings in musicians from across Canada to collaborate on innovative and thrilling chamber music concerts. In 2016 Michael collaborated with violinist Jasper Wood, with whom he has worked several times, on a thrilling all-Stravinsky program. The finale of Westwood Concerts' second season, featuring Messiaen's Quartet for the End of Time, was acclaimed in Musical Toronto as "a truly memorable concert …(leaving one) with a feeling of gratitude for the opportunity to understand the composer's intention." Michael, they added, "managed to combine the tension between the airborne creatures and the gravity of human limitation with his stately pacing and resonant tone."
Michael Westwood has collaborated with a great number of leading Canadian classical musicians over the past two decades. An extremely passionate chamber musician, Westwood has performed at the Banff, Orford and Domaine Forget summer festivals as a soloist and chamber musician.
Celia Tang, Clarinet Teacher
MM University of Toronto
BM University of Toronto
Celia studied with Max Christie and Joseph Orlowski at the University of Toronto. She performed in the University of Toronto Symphony Orchestra, Linus Chamber Orchestra and Musica Reflecta. Most recently, she won a concerto competition and performed it with the Kitchener-Waterloo Chamber Orchestra. She performs a variety of genres in her chamber ensemble Tutti!
Lucas MacPhail, Saxophone & Clarinet Teacher,
MM University of Toronto
BM University of PEI
Teaching beginning clarinet to RCMusic level 6, saxophonist Lucas MacPhail has performed as a soloist with the PEI Symphony Orchestra, the University of Toronto Wind Ensemble and at the Indian River Festival. Recent engagements include a Children's Outreach with the Toronto Symphony and the York Region Chamber Music Festival. At the University of Toronto, he studied saxophone with Wallace Halladay. Born in Charlottetown, PEI, Lucas always looks forward to returning to the Island's vibrant musical community to refresh his roots.
To book an assessment or a trial lesson call
:
905-479-0591
See Ware Academy of Music Woodwind Flyer:
Click to download Ware Academy of Music Wind Flyer